March 22-24, 2021, marked the 28th annual AIDSWatch, a bilingual conference with live language interpretation. AIDSWatch is the country's largest annual HIV advocacy event. AIDSWatch2021, a multilingual event, made history with 500+ advocates joining together over multiple platforms from all across the country.
AIDS United is the organization behind AIDSWatch. Each year, AIDS United pulls together a program that includes keynotes, activists, breakout sessions, and congressional visits. Despite the challenges imposed by COVID-19, AIDS United continued to be a successful multilingual event. When the pandemic hit, AIDS United embraced the technical advances and switched to a virtual format with live interpretation. Inspired by the tremendous work AIDS United does every year to create a multilingual space, we invited Whitney Thomas, policy and communications associate, and Nora Darling, policy and annual conference manager to share their experiences with us. Enjoy our conversation and learn how to host a successful multilingual event with live language interpretation!
Using the AIDSWatch2021 Model to Prepare for and Execute A Successful Bilingual Conference: A Case Study*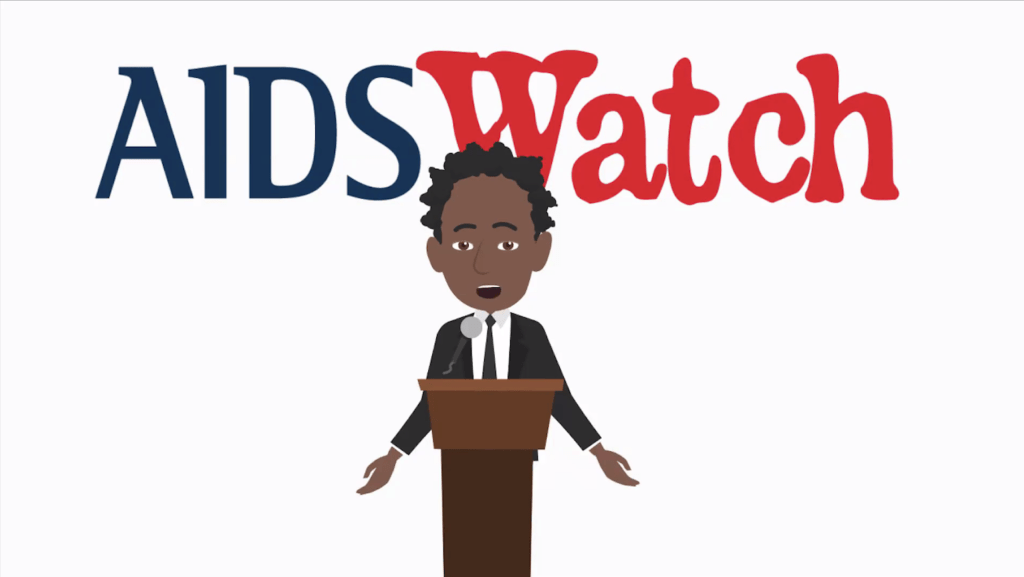 AIDSWatch2021 began with a bilingual instructional video designed by AIDS United. The bilingual video was voiced by the organization's Vice President and Chief Advocacy Officer. The video drove new levels of understanding in language equity and inclusion
Q. Two years ago, the pandemic forced AIDS United to switch to a virtual format. How comfortable and prepared did you and your team feel by the idea of celebrating AIDSWatch virtually for the first time ever?
Nora Garcia: In March 2020, we had some technical difficulties. We, like the rest of the world, were learning to implement new technology right on the spot. Switching to remote language interpretation within 20 days was nerve-wracking. In preparation for AIDSWatch 2021, we made language access a bigger priority. We want to have a successful multilingual event.
Q. Accessibility and inclusion have always been important components of AIDSWatch, were you aware you would take on your organization's commitment to language justice? What personal experiences have shaped your understanding of inclusivity?
Whitney: I did a lot of learning during AIDSWatch: Road to Resiliency in September. By the time my team and I started preparing for AIDSWatch 2021, we had already experienced two virtual multilingual events. Of course, it took us a lot of planning and communication, but I knew this was something I could take on. Growing up, my family hosted foreign exchange students with different English levels. I also studied abroad in Germany, and I keep practicing the language. I vividly remember one of my experiences abroad trying to navigate a train station while traveling through Denmark.
Nora: My family got to host two foreign students. I have also had the chance to travel outside the United States. Because of these experiences, I can confidently say I know how it feels to run into language barriers. But, even beyond my personal experiences, I have a commitment to language accessibility. In the United States, a little over a quarter of new diagnoses are among people who speak Spanish. In order to end the HIV/AIDS epidemic, language access and equality are fundamental. AIDS United has several partners in Puerto Rico, and they feel comfortable asking for needed language services; diversity makes us stronger.
Q. This year AIDSWatch acknowledged and put AIDS United's language justice values in a bilingual video narrated by Carl Baloney (VP) how did the idea come about?
Whitney: I have participated in virtual multilingual events before and I noticed that instructions on how to access language interpretation services were very unfocused. They were either vaguely explained, presented at the beginning of the event, or simply displayed in a slide for a very short time before anyone could actually learn to access the services. I started thinking of how I could make sure everyone has the same amount of knowledge to access language interpretation. Part of the inspiration came from going to movie theaters in Germany. I watched a movie that I would not have been able to understand if they hadn't given me translation services. On this occasion they had run out of headsets for the English interpretation, so they posted up English subtitles for me. In German movie theaters, there is often an intermission halfway into the movie. They show you how to access language services using the headsets at the beginning of the movie. The same instructions are once again shown after the intermission. I learned that I also have the tools available to make language access a reality during AIDSWatch 2021. I actually thought of being capable of making something cool and cute, I just told myself, why not?
Q: Tell us how did you sell your idea to the whole organization; did you have total freedom to go for it?
Whitney: I did get quite a bit of freedom within the AIDS United's team to run with ideas when I had them. I know that my team tends to go quickly when they read slides. Therefore, I knew that by having control over the audio and using an animation program, I would be able to give attendees the time they needed to successfully access the language interpretation channels during our multilingual event.
Q. What tools/software did you use to put this video together? Do you have a degree in graphic design? Can something like this be replicated by small organizations?
Whitney: I do not have a degree in IT or graphic design, my degrees are in public health and legal studies, So If I could do it, I promise anyone can too. The program is called VYOND. You could even use your phone to record the audio. The program is easy to use; all you need is a little creativity.
Q. The video made the audience feel welcomed, respected, and represented. Are you surprised by the positive feedback and excitement generated by your video?
Nora: When I first saw the animation, I knew people were going to love it. The fact that Whitney chose our VP, Carl Baloney, to deliver the message was very significant and it resonated with our audience. He has been an integral part of AIDSWatch; at many levels, he reflects so much about our community. I knew the video would be very well received during our multilingual event.
Q. What advice can you give to small and local organizations that want to break language barriers but do not have either the structure or resources AIDS United had
Whitney: I would encourage them to reach out to other organizations because there is always someone who can assist in some way. Every opportunity to break language barriers is better than none at all.
Nora: You never know who in your community is going to know someone who could help you. First of all, start asking for help. Then, reach out to larger organizations you have similarities with. There are organizations that are doing amazing work in language justice and accessibility, reach out to them and do not be afraid to ask.
Q: Are you already thinking about your next project for AIDSWatch2022?
Whitney: Yes, I have a couple of ideas I want to execute in the future. I guess everyone needs to come to AIDSWatch 2022 and see for themselves.
AIDS United places great value on diversity. Creative ideas aimed to remove language barriers are welcome. Members are encouraged to access translation and interpretation services whenever they need them. AIDS United understands that language access is a huge part of ending the Global HIV/AIDS epidemic and is committed to making sure every member is respected and represented.
Global YNS has partnered with AIDS United for years. The same dedicated team of interpreters and translators has been serving the organization. Each linguist has become knowledgeable of the terminology, structure, preference, the organization's values, and audience's needs. Linguists have been researching the topics and developing glossaries with the input of the community for the past years. Global YNS has developed expertise in the organization of complex subject matters and celebrates the efforts and actions taken to strengthen language equity. This case study aimed to highlight the value of embracing language diversity from the beginning which has resulted in the creation of a multilingual space where people can freely communicate, discover, and learn about one another.
Global YNS
Offering superior language solutions,
Where quality is our priority