We facilitate verbal interaction between two or more people, who do not share the same language. Think of interpretation as a spoken translation that is provided "live" to facilitate communication. We offer professional interpretation services that provide crystal-clear audio for your one-on-one business meetings, international conferences, or webinars.
Accurate communication is the most important aspect of any meeting, and quality interpretation will ensure its success. We offer interpretation equipment for conferences and events. We have in-house event tech directors, planners and experienced technicians available for any type of event. We provide you with the tech solutions you need to communicate your message to a wider audience no matter the languages. Our professional interpretation services include Zoom interpreters for online conferences and events.
Spoken language interpretation and sign language interpretation are two distinct professions. There are specific requirements, certifications, and licenses. Global YNS provides onsite and remote interpretation services throughout the Washington, DC, area and beyond.
GET A QUOTE
CONTACT US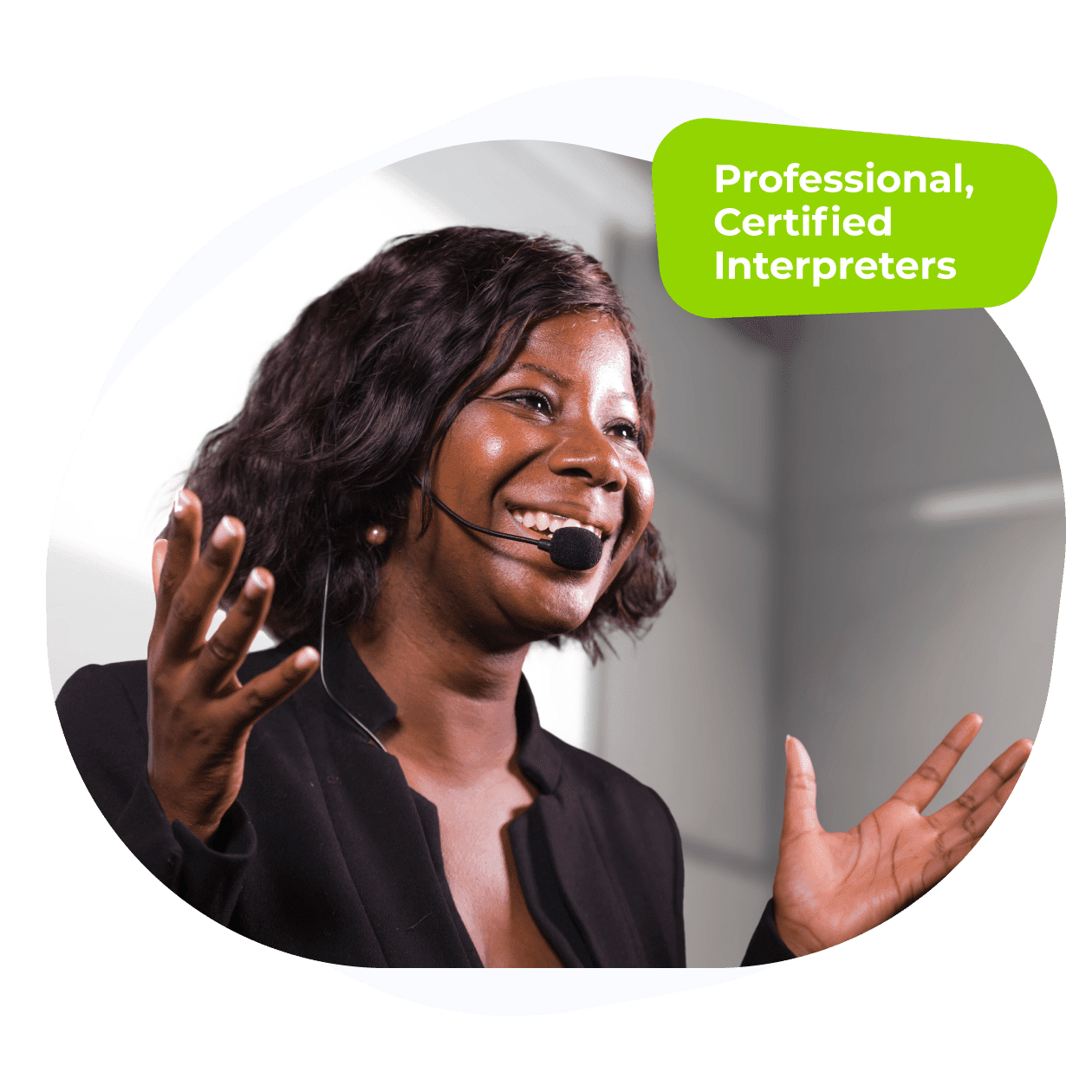 Conference Interpretation
Conference interpreting is a separate specialization of language interpretation. As the name implies, it is used at conferences, town hall meetings, large seminars, or workshop types of events throughout Washington, DC. By the same token, conference interpreters have years of highly specialized education and training. Our professional interpretation services help organizations to reach a broader audience. Most importantly, conference interpreting allows audiences and communities to fully engage and connect. We'll recommend what's best for your organization. Our Zoom interpreters are available for online events to ensure all attendees have access to information.
Onsite or Remote Interpretation
We offer both! The decision depends on the population you serve and their language needs. We specialize in providing highly experienced Spanish interpreters and interpreters for over 50 languages.
On-site interpretation is ideal when the client may not be comfortable using technology and may find it distracting or, when working with children, or in mental health settings.
There are other factors to consider such as budget, industry, size of the office or venue, timeline, language, and frequency. We'd recommend what's right for you. Learn more about our certified Zoom interpreters and remote interpretation services.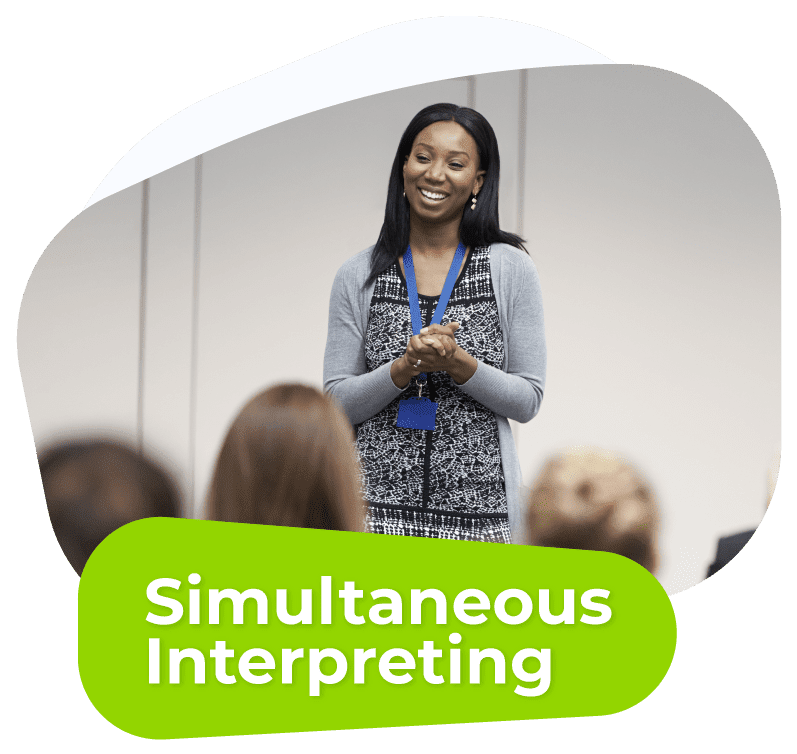 Generally used in multilingual conferences and meetings. It requires the presence of two interpreters.
Interpreters sit in a soundproofed booth and simultaneously translate what the speaker is saying. Participants can listen to the translation through dedicated headphones. Given the high level of concentration required, a team of two interpreters is assigned. Simultaneous interpretation allows presentations to flow naturally, in multiple languages, without delay. For example, a team of two Spanish interpreters can translate the speaker's message directly to the Spanish speakers in attendance.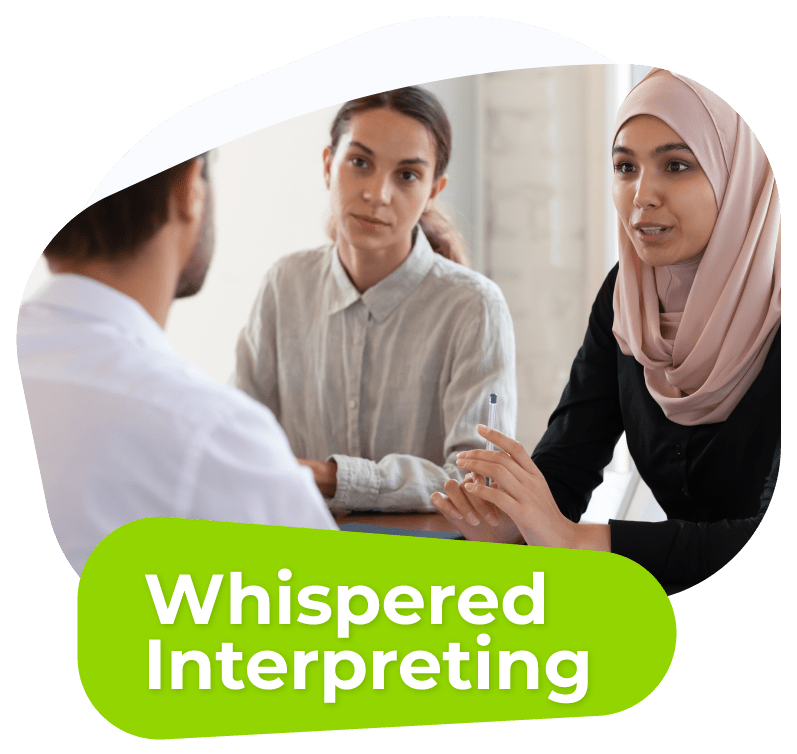 For short meetings, or, in any case, when only a limited number of people (2 or 3) need the spoken translation.
This is very similar to simultaneous interpreting, but the interpreter sits next to participants and whispers the translation into their ears. One interpreter suffices for events not exceeding two hours. This is common in circumstances where the majority of a group speaks the source language, and a minority does not speak it.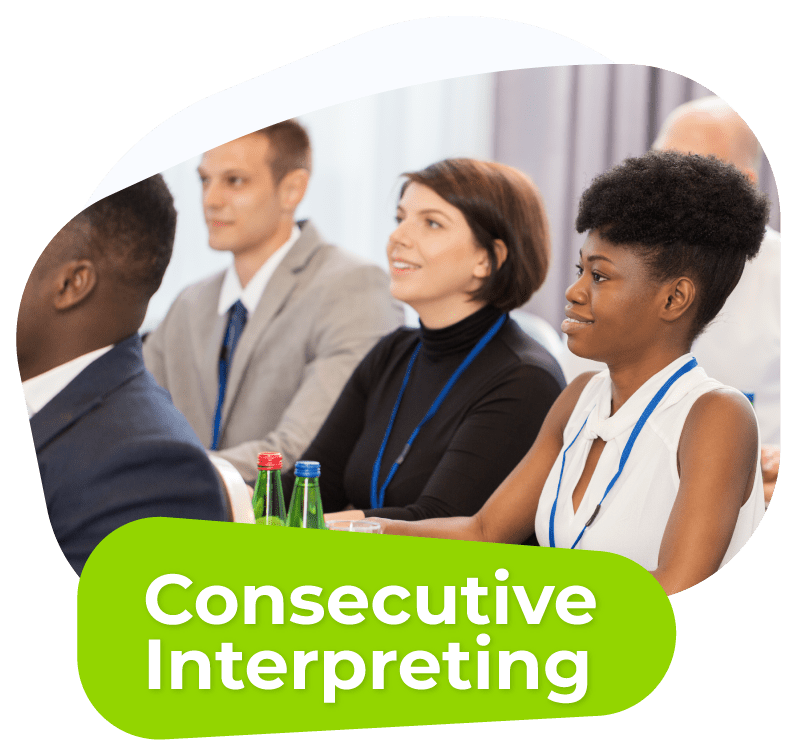 For official visits, seminars, or meetings with a reduced number of attendants.
This is where communication flows in a lineal approach, where one speaks and then pauses, so the interpreter can speak. The professional interpreter sits with the speakers and translates their speeches after these have been delivered, thanks to a particular technique of note-taking. This mode takes much longer and can disrupt the natural flow of the meeting.